Garner Osborne invests in the impressive Altus flagship X-Spection 6000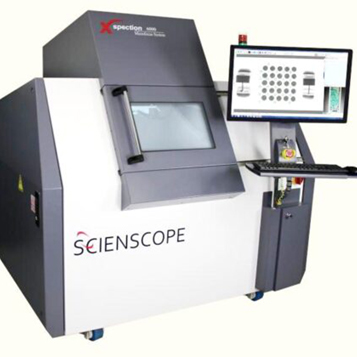 Our team at Garner Osborne is always striving to offer customers the very best production capabilities on the market. Part of that is delivering the highest quality products we can. With our latest investment, we take another step in enhancing our offering to our customers with a great piece of equipment that adds quantifiable analysis to our X-ray process.
Using the most advanced technology in our state-of-the-art factory in Berkshire, we have recently invested in the system X-Spection 6000 is Scienscope's most technologically advanced X-Ray Inspection system from Altus. It includes every advanced software tool required for a wide variety of applications.
Thanks to its impressive features and flexibility Scienscope X-Spection 6000 has been a popular system since Altus added it to their equipment portfolio. As with all X-SCOPE platforms, it includes every advanced software tool required for a wide variety of applications. With more tilt and a rotating work table it offers the ultimate in flexibility.
Standard features include fully integrated, 130 kV high power closed X-ray tube, 60° camera tilt for oblique angle viewing, 22″ x 18″ inspection stage with 350° rotation, colour mapping camera with zoom window provides easy location and identification of faults.
The X-SPECTION 6000 can work for many applications including multilayer PCBs, BGA-micro BGA flip chip inspection, semiconductors and encapsulated components. Using highly advanced software, the system has BGA void detection and automatic calculations with easy macro reading for intuitive step and repeat programming. It has been designed to provide all the tools needed to complete inspection successfully and increase product quality.