When the chips are down: How the global component shortage is impacting PCB manufacturing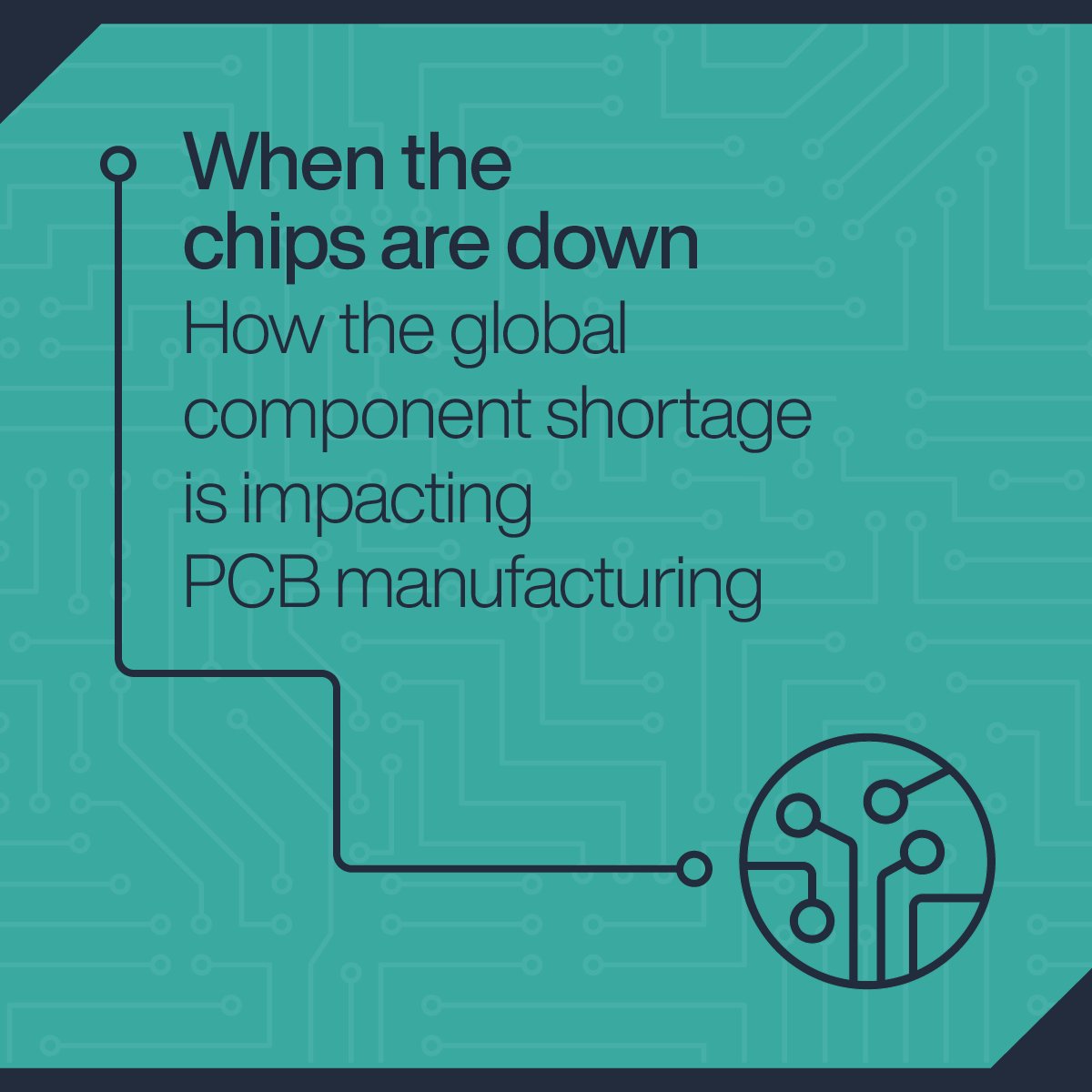 The peak of the Covid-19 pandemic may have passed, but the electronics industry is still grappling with the fallout. The global component shortage, which began when factories were forced to shut at the start of the pandemic, is continuing to disrupt electronics production and supply – and printed circuit board (PCB) manufacturing is no exception.
In our latest post, we look at the impact of the component shortage on PCB production, and exactly what it means for our customers.
What's on this page
The background to the global component shortage
How is the component shortage affecting PCB manufacturing?
When will the global component shortage end?
In safe hands: how we're dealing with the current disruption
The background to the global component shortage
Factory shutdowns and Covid-related restrictions brought electronic production to a near halt when the global pandemic took hold, with China – the global hub of the electronics industry – being particularly hard-hit. Yet as supply dried up, sales of consumer electronics and hardware soared. People were increasingly relying on technology and electronic devices to work, communicate and entertain themselves during lockdowns. This resulted in demand far outstripping supply. Even tech giants like Apple and Samsung were forced to delay product launches as a result.
To make matters worse, the component shortage was compounded by copious logistical issues, including severe port delays, lorry driver shortages and, of course, the infamous blockage in the Suez Canal. In a perfect storm of events, natural disasters such as the drought in Taiwan – another major producer of electronic components – also disrupted supply.
But while events of the last few years have undoubtedly exacerbated component supply problems, some commentators claim the pandemic simply exposed cracks that were already emerging. With electronic components now integral to most markets – from consumer tech to the healthcare and automotive industries – many experts argue that it was only a matter of time before the well ran dry.
How is the component shortage affecting PCB manufacturing?
Like many other industries that rely on electronic components, PCB manufacturing companies are experiencing severe disruption as a result of the global shortage. At the end of last year, it was reported that some PCB components were running more than 50 weeks behind schedule as pent-up demand dwarfed supply. While the situation has improved slightly during 2022, lead times are still painfully long.
The PCB sector is particularly feeling the effects of a shortfall in some of the key raw materials that are used to manufacture printed circuit boards. Copper-clad laminates and copper foil, which acts as a base plate for PCBs, are becoming increasingly hard to get hold of. As a result, the price of copper foil has risen dramatically over the last couple of years, adding to the cost burden on PCB manufacturers.
The copper shortage is also having a direct impact on the price of lithium batteries, which are in high demand thanks to the global growth of key sectors such as the electric car and renewable energy market. With copper used in virtually every major component in an electric vehicle, including the battery, the ongoing supply issues are having huge repercussions for the automotive industry. According to some reports, EV battery prices could surge 22% from 2023 through 2026, peaking at $138 per kilowatt-hour.
All this comes at a time when demand for aluminium (commonly used in metal-backed printed circuit boards) is also increasing, putting further pressure on already strained supplies.
When will the global component shortage end?
While there are tentative signs the disruption to the electronic component supply chain may be starting to improve, it's not over yet. Experts have warned the global component shortage is likely to last throughout 2022 and even into 2023. Earlier this year, US Commerce Secretary Gina Raimondo said she didn't foresee the "chip shortage abating in any meaningful way any time in the next year." In fact, she warned it could be "deep into 2023, possibly early 2024, before we see any real relief."
Although no one can say definitively when the global component shortage will end, it's clear the ongoing implications will continue to challenge the electronics industry in the months ahead.
In safe hands: how we're dealing with the current disruption
Like many other PCB manufacturers, Garner Osborne has witnessed first-hand the effects of the global component shortage. The good news is that with more than 30 years' experience behind us, we understand the importance of being agile and adapting to changing market conditions. In the face of continuing global uncertainty, we have taken steps to strengthen our supply chain, increase stock levels and expand our supplier network to minimise disruption for our customers.
As you might expect, the shortage of electrical components – coupled with other inflationary price rises – has inevitably led to a significant increase in our operational costs. However, thanks to our strategic planning and robust internal processes, we have been able to minimise the impact of these higher costs for our customers.
While we can't be sure when the current disruption will subside, rest assured that we're doing everything we can to ensure we continue to provide customers with the same high-quality service and products they have come to expect.
To find out how Garner Osborne can help with your PCB manufacturing and assembly requirements, give us a call on 01635 582626 or request a free quote today.